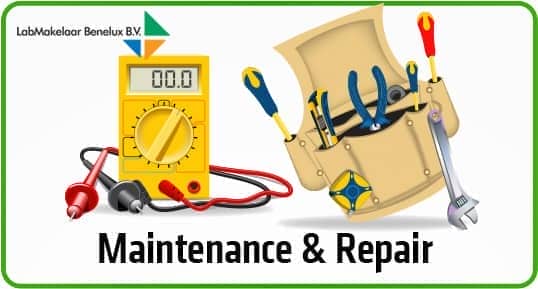 Whether it concerns a coffee machine or laboratory equipment, in the Netherlands alone, 10.9 million kilos of electrical appliances and textiles are discarded every week. However, after a small repair, these can often still be used. So don't just throw away defective equipment, but appreciate it and repair it. This is not only better for the environment, but also for your budget!
LabMakelaar Benelux has a very experienced service department to carry out the repair and maintenance of all your laboratory equipment in our well-equipped workshop. We also carry out repairs on location via one of our renowned service partners. This way you don't have to buy new immediately, and you keep a budget for other things.
We stand for a strong circular economy in which reuse and repair of laboratory equipment becomes a matter of course. We are happy to help you with this.
If you would like to know what we can do for you in the field of repair and/or reuse of laboratory equipment and furniture, please contact us.