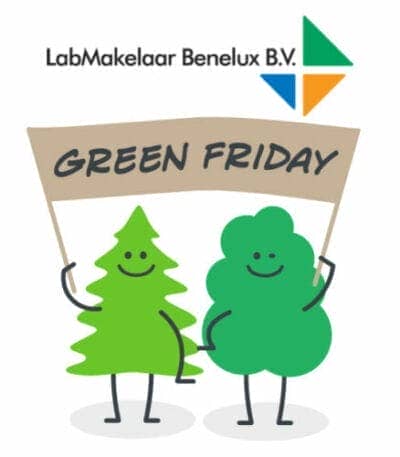 With Green Friday we make a statement against Black Friday: the day when screaming discounts and cheap deals are flying around us. In this way, Black Friday greatly encourages impulse buying and overconsumption. And with that we are rapidly depleting our earth.
At LabMakelaar Benelux we believe that things can and should be done differently. That is why we are going on Black Friday on Friday 24 November for Green Friday. We don't give (extra) discounts this day, but give something back to the earth: trees for the Green Friday Forest! And so we, together with our customers, put the blackest day of the year on Green.
For every €250 that we generate in sales on Friday 24 November, we will donate a tree to Trees For All*. You contribute to corporate social responsibility, and we plant the trees. In this way we keep our earth green and healthy. After all, we do that together with a strong circular economy.
LabMakelaar Benelux strives for a strong circular economy in which reuse of laboratory equipment becomes a matter of course. We can help you with this. Through our website we give laboratory equipment a second, third or even fourth life. This saves a lot of raw materials and fuels through reuse. In addition, you always benefit from a discount with us, possibly up to 50% compared to new. Circular procurement is therefore not only environmentally friendly, but also budget-friendly.
*Maximum number of trees: 50.
Only sales confirmed on Friday November 24 will count.