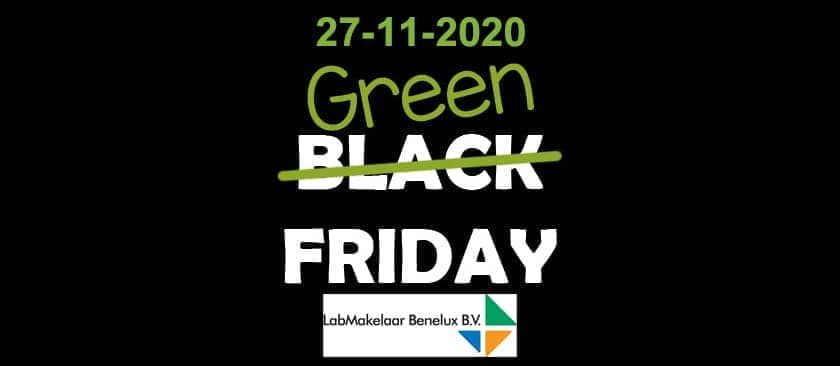 Friday, November 27 is "Black Friday". A day that many people see as the perfect moment for Christmas shopping due to high discounts. LabMakelaar also sees Black Friday as a dark day for the climate. Over-consumption has a major impact on the environment. In addition to the use of raw materials and the use of fossil fuels for production and worldwide transport, the mountain of waste is also increasing due to "bad bargain". And they are lurking even more during Black Friday because of these high discounts.

To be able to do something back for our planet, at LabMakelaar it's not Black Friday, but "Green Friday". We don't give (extra) discounts on this day, but we give trees.

For every € 250,- we generate in sales on Friday November 27, we plant a tree during the Dutch national tree day, March 17 2021*. You contribute to corporate social responsibility, we plant the trees. In this way we keep our earth green and healthy together. After all, only together you can realize a strong circular economy.

LabMakelaar Benelux B.V. strives a world with a strong circular economy in which companies get easy access to a total solution for furnishing and equipment of their laboratory with good quality and recycled material. We can help you with this. Via our marketplace we give laboratory equipment a second, third or even fourth life. This saves a lot of raw materials and fuels through reuse. In addition, you will always benefit from our discounts, up to 50% compared to new. Circular procurement is therefor not only eco-friendly, but also budget-friendly.
*a maximum of 80 trees. Contribution to a local event during the National Tree Day or via a contribution to Treesforall.